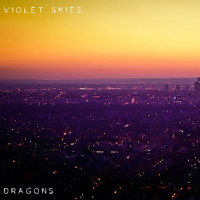 You will be glad to read that we do actually have something to feature this Saturday and it is actually rather good.
Dragons by Violet Skies reminds me of the XX and London Grammar which is no bad thing. It isn't ground breaking but better than anything else that has popped into my inbox recently.
Here's the PR, don't let the mention of Sting put you off!
"'Dragons' is the hypnotic and captivating new track from singer-songwriter Violet Skies.
Taken from her upcoming debut ep 'Dragons' produced by Great Skies, is a captivating slice of two-step heaven, blending Violet's haunting vocals with minimal electronic beats and enchanting orchestral sounds. 'Dragons' serves as a follow-up to the incredible 'How The Mighty', which debuted last year and received airplay on BBC Radio 1's 'Introducing' series and was tipped by the likes of NME, The 405, Hilly Dilly and Earmilk.
Hailing from a small village in South Wales, Violet's sound draws on her love of a range of artists from those she grew up listening to such as Joni Mitchell, Sting and Paul Simon, to the unique soundscapes of Massive Attack and James Blake.
Violet's debut ep 'Dragons' is available for pre-order on iTunes and will be released on 22nd June, just days after she takes to the stage at this year's Camden Crawl (June 20th)."
You can pre-order the ep
here